I am joining in the fun of the
PINspiration Blog Hop
hosted by Amy at Disney Living today. Pinterest has become a site I go to first when it comes to needing anything from a new recipe to a creative way to recycle things to organizing our home. The best part is knowing that these ideas are tried and true (for the most part!). I have "pinned" a lot of ideas, but haven't necessarily tried them all, but I have good intentions to!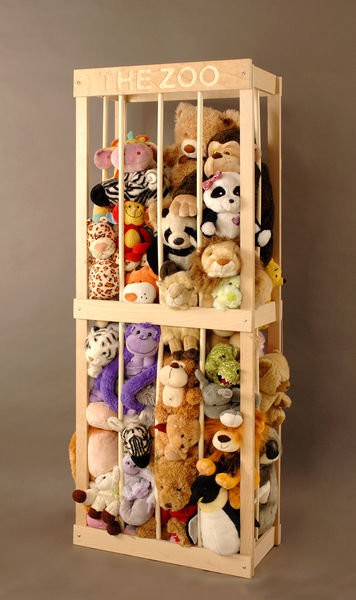 This image is from Organizing
HomeLife and the photo I found on
Pinterest that I shared with my dad
Almost 2 months ago I discovered a great way to store stuffed animals. We actually have more stuffed animals in this house than any house needs, but honestly they are used by my kids everyday. They attended tea parties, ride around in bike baskets, get cuddled at night and much more. The problem is they are so bulky that both the girls' toy box and Joey's were overflowing with toys. So much so, that if they needed anything from their toy box, they had to empty it to find anything. As I am sure you can imagine, that was a constant mess in their rooms. Because, of course, the toys are much easier to take out than to put back in, well, at least according to my kids!
I showed my dad the photo of "The Zoo," a toy organization idea I came across on Pinterest (see right). It was pinned from the site
Organizing Homelife
, a great site that I was more than excited to find! Not only would it be the perfect solution to our stuffed animal takeover, it was really cute! I showed it to the girls who immediately loved it. I told them they had so many Disney stuffed animals we should call it the "Emporium" (after my favorite shop in the Magic Kingdom). I was out voted two to one, and we now refer to it as "The Zoo." My girls, especially Hayley, love animals, so it is very fitting for them and no surprise they would keep the name as we saw it on Pinterest.
My dad is pretty talented in the carpentry area. He has done many amazing projects for us from putting up crown molding and chair rail to
building our TV cabinet and bookshelves for the family room
. After much time spent looking for enough purple bungee cords at all our local hardware and department stores to complete the project, here is our Zoo, the perfect storage solution for our stuffed Disney souvenirs:
See what I meant earlier about having way too many stuffed animals? I hate to even
admit this, but this isn't even all of them!
My dad came up with the plan on his own from the photo I shared with him, since we could not find directions anywhere to actually build it. He did an amazing job designing and building this, and the kids just love it! This is the perfect solution for storing our Disney stuffed animals! Thanks, Dad! By the way, the Disney Store is having a
Summer Snuggles Save on Cuddly Plush Sale
in case you are looking to expand your Disney plush collection (I will be using all my will power to try and avoid this sale!).
If you are looking for more PINspiration, make sure you head over to
Disney Living
to see what other projects have been shared and link up with your own PINspiration creation!