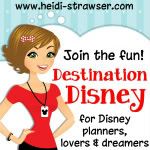 Today I am sharing my top 9 Disney characters as a part of
Destination Disney hosted by Heidi over at Heidi's Head
. This was really difficult to pick just 9! Like last week's entry, this is a list of our family favorites and they are in no particular order:

Rapunzel, Flynn, Maximus and Pascal: We are all huge fans of Tangled. These characters are so funny, heartwarming and caring that how could we not love them? We listen to the Tangled soundtrack all the time and my children act out all the songs and scores from the movie.

Sleeping Beauty: Princess Aurora is Hayley's favorite Princess. She loves that Aurora dances with the animals in Prince Philips clothes. Even better, she loves the colors blue and pink, so what better princess than one who had a dress that was changed back and forth from pink to blue. Of course, it does make me proud when she asks why Sleeping Beauty toys are always pink when mostly in the movie her dress was blue.
Princess Tiana
: Emily just loves Princess Tiana. She sings the songs from the movie all the time. But I realized how much she loved the movie one afternoon while she was playing with her kitchen and pretend food. I asked her what she was cooking and her response, "I am not cooking, I am mincing!"

Woody and Buzz: I cannot separate these two. They are Joey's very first Disney loves! From the first time he watched Toy Story, Buzz and Woody quickly became household favorites.

Lightning McQueen: As soon as Joey saw Cars for the first time, he was obsessed! We started collecting all the diecast cars from the movie, which we then used to teach Joey his colors (all the racers were different colors) and numbers (all the racers have their own numbers). To this day, Cars has a prominent theme in this house - Joey's room is a Cars theme and you can find several Cars around the house on any given day.
Belle
: From the first time I watched Beauty and the Beast, Belle became my favorite princess. I loved that she stood up for herself and loved to read. Even better, she had brown hair, something no other princess had. Add to that being able to see people's inner beauty without judgement of what they looked like on the outside is a tremendous trait to have.