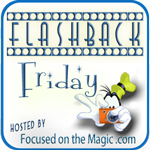 Today, I am joining in the fun of the
Disney Flashback Friday Blog Hop
hosted by Deb at Focused on the Magic. I know I say this every week, but I love this blog hop because I get to go back through my Disney photos and reminisce about our previous trips. Even better, the kids usually join me on my trip down our Disney Memory Lane.
Visiting Walt Disney World with children is such a magical way to experience the parks. Since our first trip as parents in 2006, I have had the pleasure of seeing Disney through the eyes of my three children. The memories we have created are certainly some of my favorites. Lately though, with talk of participating in a runDisney event, Pierre and I have been discussing taking an adults only trip and leaving the kids home. As much as we would both love to, Pierre says he would feel too guilty. I think I would feel guilty, but I also know there are a lot of things we could do that we just can't when we have the children. This is no reflection on their behavior because our kids are really great and we can take them anywhere. It is just that things like strolling through World Showcase would have no appeal for my kids, even though it is something Pierre and I love. So this got me thinking back to our last trip before becoming parents. It was the trip that one of my most emotional Disney moments happened -
the moment I thought I just may never have the chance to bring my own children to Disney
. Luckily, as you can tell, that thought never became a reality!
In February of 2004 (I cannot believe that was 8 years ago!!), we made the trip to Walt Disney World. It was beautiful the entire week we were there. We stayed at Disney's Caribbean Beach resort in South Trinidad and really had one of the most relaxing vacation we have ever had. Here we are . . . in our younger years!
If my children weren't such Disney fans, this would be an easy decision. But since we have been home from our last trip, all three kids have asked constantly when we are going back. I think that is what is making me so torn on planning an adults only trip! Have you made a trip to Disney and left the kids home? How did your kids deal with it?
Make sure you head over to
Focused on the Magic
to see everyone's Disney Flashbacks!