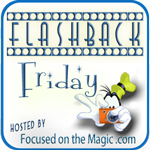 Today I am joining in on the fun of the
Flashback Friday Blog Hop
hosted by Deb of Focused on the Magic. I love this blog hop because we are always looking back through our trip photo albums and watching our vacation montages. It is funny what catches my eye.
One of the things that we keep an eye on the most while in Walt Disney World is Hayley overheating. It isn't that we do not worry about Emily or Joey, but Hayley very easily becomes overheated when it is barely 80. So in 2008, when Hayley was just 2, we were in the Magic Kingdom and she was giving us all the signs of a kid who was unhappy and about to meltdown from the heat. We originally made the decision to leave the Magic Kingdom and head back to the hotel for a swim, but she wasn't going to make it. We decided on our way past the Emporium that this would be our solution - an air conditioned place with lots of distractions, i.e. toys! But what we found that it wasn't the toys she loved, it was the hats! The Emporium has a section of all the Disney hats in bins. She could easily reach the ones she wanted to try on. This ended up being the perfect solution. She tried on every hat she could and within 20 minutes, she was cooled off and back to her happy self.
The Emporium ~ October 2008
The Emporium ~ October 2008
This past trip, she didn't have an issue with overheating, but she did find another great spot to try on hats - in Frontierland! We were waiting to get a spot for the parade, and Hayley was excited to model the character hats. When she put on the Goofy one, she let out a loud "Gawrsh" that grab the attention of a few guests walking by. She put on quite a show!
Frontierland ~ October 2011
Frontierland ~ October 2011
Since this is Flashback Friday, I decided to see how far back I could go and find pictures of us with different hats on throughout the parks. Here's one I found from October of 1988 - taken 20 years before the ones of Hayley in the Emporium!
Here's me at the ripe ol' age of 15! World Showcase ~ October 1988
Finding spots to try on these hats for Hayley is a lot free fun and can be a great way to cool off in an air conditioned shop!