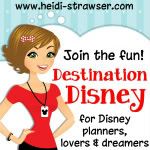 I am so excited that Heidi has brought back Destination Disney! Every Thursday she invites everyone to share a post on a particular topic. This week's theme is:
Top 10 Disney Attractions
Here is our family list in no particular order:
Pirates of the Caribbean: By far my favorite!
Haunted Mansion: I absolutely love this attraction! My kids have never experienced it, but Pierre and I wouldn't miss it!
Buzz's Space Ranger Spin: Another favorite of the entire family
Prince Charming's Regal Carousel: Hayley and Emily would spend the entire vacation on the carousel with maybe a stop or two to hop on It's a Small World
It's a Small World: Hayley has loved this attraction since her first ride through when she was two.
Rock N' Roller Coaster: Pierre's Disney vacation would not be complete without at least experiencing this once if not twice per trip!
Toy Story Midway Mania: The entire family loves this one!
Kilimanjaro Safaris: Hayley and I have the safari ranked a the top of our lists!
Tomorrowland Speedway: Joey rides this at least 3 times per trip!
Star Tours: Pierre and I love the update to this attraction!
I know that this list really could go on and on, but these 10 are things on our must do list every trip! What are your top 10 Disney attractions?
Make sure you head over to
Heidi's Head
to see everyone's top 10 lists!