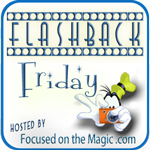 Today I am joining in the fun of
Flashback Friday, hosted by Deb at Focused on the Magic
. You know that I am a Disney fan, but you may not know that we are also New England Patriots fans and have been since their seasons of minimal wins, and even their terrible loss to the Chicago Bears in Super Bowl XX when their total yardage for the first half was in the negatives! As you can imagine, our household is excited for Sunday's Super Bowl!
Of course, like everything else in our lives, we have a Disney story to go along with this New England Patriots celebration. My husband wears Patriots things pretty often and when our son was born, he was, of course, given many Patriots outfits as well, which have been passed down and both girls have even worn them. Our kids have been dressed in Patriots clothes for every game (with just a few exceptions) since they were born. Even when we visit Walt Disney World, one day of the week, all the kids are dressed in their Patriots clothes.
Here the kids are celebrating the Patriots' 2011 season
Back on Joey's first Walt Disney World trip in February of 2006, while making our way from Frontierland to Adventureland, my dad veered away from our group and said hello to someone and shook his hand. When I glanced over to see who he was talking to, it was Bob Kraft. I couldn't believe it! I especially couldn't believe that my dad walked over to talk to him. In all our trips to WDW, we have seen many celebrities, though my dad made it very clear to my brother and I we could smile or wave to them, but they were on vacation and we were not to interrupt their time with their families. So let me tell you I was quite shocked that my dad went against his own advice.
My dad and Joey on Joey's first trip to WDW
My dad introduced himself and thanked Bob Kraft for all that he has done for the Patriots and Patriot fans. He then said he would let Mr. Kraft get back to his vacation with his wife and grandkids. The great part was, Mr. Kraft continued to chat with us about the Patriots. My son Joey was 14 months at the time and wearing his Patriots hat, which Mrs. Kraft commented on right away. Mr. Kraft mentioned that he didn't even know that they made Patriots hats that small. He gave my son a pin which had the Lombardi trophy and Patriots symbol on it. This led into my husband and dad then talking about Joey being a football player someday. Mr. Kraft, my husband and my dad then had an extensive conversation about what position Joey would play. I found this comical that three grown men were discussing the potential football fate of a 14 month old!
Hayley's first Patriots game (2 weeks old) - Pre-season 2006
He was such a nice guy and was so sweet to my son, as was Mrs. Kraft. They are the type of people that just make you feel comfortable upon meeting them. This just endeared me to the Patriots even more. My dad and my husband talked about it the rest of the trip and even called my brother, who had left Walt Disney World just the day before, to let him know he missed meeting Bob Kraft. I will say my brother was quite disappointed. Needless to say, we didn't get a photo, I was the camera carrier, because I felt like we were intruding on his vacation, but the men in my family will not let me live it down that I didn't get a picture of them with Mr. Kraft! So, the pictures I have shared are my kids through the years in their Patriots clothes.
Hayley ready for the playoffs ~ January 2007
So whether you are a New York Giants fan or a New England Patriots fan, I hope that you enjoy what is sure to be a tremendous football game! Good luck to the New England Patriots!
Who are you rooting for this Sunday?
Emily ready to kick off the 2008 season
Our family was very saddened when we heard of Mrs. Kraft's passing last summer. From our brief meeting in Disney and from what we have heard and read about her, she was such a caring and sweet person. For those of you who do not know, the patches the Patriots wear on their uniforms, which say MHK, stand for Myra Hiatt Kraft.