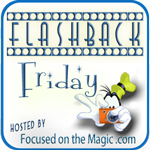 Today I am joining in on the fun of the
Flashback Friday Blog Hop
hosted by Deb at Focused on the Magic. As I looked back through my photos, I realized that there is one thing my kids love, rain or shine, hot or cold. It is the pools at each of the resorts we have stayed at.
Back in March of 2010, we headed down to Walt Disney World. Let's just say it was freezing the entire week we were there except for one day. I believe several of the days it was warmer at our home in New Hampshire than it was in Orlando. Unfortunately, this meant at
Disney's Caribbean Beach Resort
that the pool areas were closed on some of the days. But one very freezing cold afternoon, the weather did not stop Hayley from enjoying the pirate pool. If you watch closely to her sitting at the top of the slide, she is absolutely shivering, but refused to come out of the pool! I finally had to make her come out at one point because her lips were starting to turn to a shade of purple, and in all honesty, I was freezing!
If you asked my children what their favorite part of our Disney vacations have been, I would not be surprised if "swimming in the pirate pool" was at the top of the list! It is by far their favorite of the Disney pools we have experienced. Even that freezing cold March week, if the pool was open and we were at the resort, the kids were in the pool!
Which resort has your favorite pool?
Make sure you head over to
Focused on the Magic
and take a step back in Disney time to see what everyone else is reminiscing about!