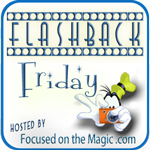 Today I am joining in on the fun of Flashback Friday blog hop hosted by Deb over at Focused on the Magic. I absolutely love looking back over our trip albums, and this blog hop gives me the perfect excuse to take them all out and reminisce. As I started looking back, I noticed a trend in my photos of Joey when he was on his first trip and just 14 months old. I have a picture of him squeezing every character's nose that came within arm's length of him. He was particularly fond of Chip and Dale at
our favorite character breakfast at Cape May Cafe
found at Disney's Beach Club Resort. As I looked at this photo, it reminded me of a very special moment on our past trip.
February 2004 ~ Joey & Chip

While visiting Camp Minnie Mickey in Disney's Animal Kingdom, we waited in line to have our photo taken with Chip and Dale. When it was finally our turn, Joey headed straight toward Dale, squeezed his nose and said, "Do you remember when I did that to you when I was a baby?" Then, Dale gave Joey, who was smiling ear to ear, a big hug and, of course, nodded yes. You can probably guess, I got a little teary-eyed. It made me realize how special all these moments really are, even the ones that he doesn't remember, but he has seen the pictures and listened to us tell him all about his first trip. After we had our picture taken, Joey walked over to me grabbed my hand and told me that Chip and Dale were his "best buds." Then, with a great big smile, he says, "Can you believe that they remembered me after all these years?"
November 2011 ~ Camp Minnie Mickey

Do you have a special Disney Flashback you want to share? Head over to
Focused on the Magic
, link up and check out all the other great memories everyone has shared!