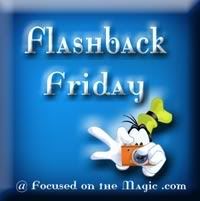 Today I am joining in the fun of
Flashback Friday over at Focused on the Magic
. One of my faovrite things to do in between trip is look back over all our past Disney vacations and reminisce. Luckily for me, my mom loved to take pictures, so even at my most awkward teen moments, my mom has them captured in photos! I decided to keep with the Pirates of the Caribbean theme I have going on this month by sharing some things from our first stay at Disney's Caribbean Beach Resort. My favorite village island of the resort is Jamaica. I didn't even realize until now, that Jamaica was the first one we stayed in!
My brother and I on our family's first stay at
Disney Caribbean Beach Resort
One of the napkins from 1990
My mom collects everything when we are in a Disney. I believe she may have a park map, napkin and anything else she can get her hands on from every trip and every place we visited. When I was younger I thought it was crazy that she would be collecting all these things. But now, I love it! It is so great looking back at how things have changed over the years!
At the time of our first visit, Old Port Royale looked much different. When you walked into what is now the food court area, there was a lounge called Captain's Hideaway. The recipe you see here was my dad's favorite beverage of the trip and the cast member was nice enough to share the recipe with him.
I love that Disney shares recipes with guests! It is a great
way to bring a little Disney magic home with you!
This was the menu at Captain's Hideaway
Disney's Caribbean Beach Resort is one of my family's favorites and has been for a long time. It is also letting me have some nice, warm thoughts of the Caribbean during this very cold and icy day we are having!
Make sure you head over to
Focused on the Magic
and reminisce with everyone else who participated this week in Flashback Friday!