As we are just one week away from our Walt Disney World vacation, we have been quite busy getting ready. Hopefully, I will find some time to catch up a little bit in my 100 Things to Do in Disney series! With all the kids sick, I have been focused on getting everyone better before we leave. The last thing I want is three sick kids in Disney.
Here's what we have been doing this week:
Wishes Around the Web
continued last week with Mary of Capturing Magical Memories with her tips for preserving your Wishes photos and memories. Tomorrow, make sure you check in here for Part 4 with Chad of Days in the Park. He will be sharing the details of Disneyland's nighttime spectacular.
100 Things to Do in Disney continues this week with:
With the weather cooling off here, we have made one of my favorite Disney recipes ~
Hoop Dee Doo Cornbread
. Not only is this delicious and bring a little Disney to our kitchen, but my kids can almost make this themselves. It is so easy!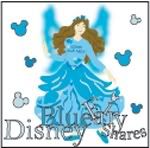 You probably can tell, I love to talk about my kids and their special moments in Disney. I was very excited to share one of my favorite Disney memories from Joey's first trip over at
Disney Blue Fairy Shares
. I believe that you can bring your child to Disney at any age and this special memory proves just that.