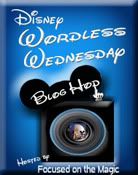 I am joining in on the fun of the Disney Wordless Wednesday Blog Hop hosted by Deb at Focused on the Magic with #89 and #90 on our countdown to Disney in my series

100 Things to Do in Disney

. Join in the fun and add your own Wordless Wednesday post and check out everyone's great photos!
#90 ~ The Lego Store in Downtown Disney (Joey's Pick): Joey has just started getting into Legos. He has talked constantly about going to the Lego Store. If he thinks the Lego aisle in Wal-Mart is impressive, I can't wait to see what he thinks of this Downtown Disney store!
#89 ~ Tower of Terror: Those of you who have been following me for a while already know that I am a complete thrill ride chicken, so this pick comes from Pierre. He makes sure to hit Tower of Terror in Disney's Hollywood Studios at least once per trip, if not more!