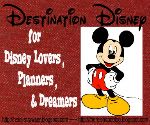 Today I am sharing #80, #79 and #78 in our countdown series
100 Things to Do in Disney
as part of Destination Disney at Heidi's Ramblings, Reflections & Reviews. This week's topic is the "G"s of Disney, and surprisingly, all three are my picks for the countdown!
#80 ~
The Great Movie Ride
is one of my favorite things to do in Disney's Hollywood Studios. But as we were creating this list of things to do in Disney, I realized I have not experienced this since 2004, our last trip before we had children. Because of a few elements of the attraction, we have not brought the children through because we felt there were some scary parts that our kids can wait until they are older to experience. For this trip, we still probably won't bring the children on, but I hope to sneak away at some point during our DHS day to take another ride through. I just love movies, and many of my favorites are found along the way.
Joey at his favorite spot in
World Showcase
#79 ~ The
Germany Pavilion in Epcot's World Showcase
is probably the pavilion I could spend the most time browsing. Though we won't be having dinner at Biergarten this trip, it is one of our favorite family dining spots. This pavilion also houses one of my favorite shops in all of Walt Disney World. Volskunnst has a wide variety of goods from beautifully detailed clocks to German beer steins. Though we do not normally make a purchase in this shop, it is definitely a place I visit every trip. The German Pavilion is also a great place to grab a drink and a snack with their German beers and pretzels.
Pierre is front of the
France Pavilion
#78 ~ The
Grey Goose Citron Lemonade Slush
is one drink I must have very trip. This is available at the kiosk in the France Pavilion called Les Vins des Chefs de France. They have a selection of French wines, champagnes, beers and specialty drinks, though this slush is my favorite! My friend, Melissa over at Disney on Wheels, may just have me convinced to also try the
Grand Marnier Orange Slush
too! (That link will take you to her blog and her thoughts on the Grand Marnier Orange Slush, along with a photo of it!)
Make sure you head over to
Heidi's Destination Disney
to see all the great "G"s of Disney everyone has shared!