Today would normally be Wordless Wednesday, but I am changing it up a little to "Almost" Wordless Wednesday.
#96 ~ Some people may refer to this attraction as Cinderella's Royal Carousel, and Disney may call it Prince Charming's Regal Carousel. But for us, the "Horse Go Round" is our first stop every trip. Hayley and Emily will tell you that this is their favorite attraction, and we ride it no less than 10 times a trip.
Hayley, March 2010
Emily with Grammie and Grampa at Hoop Dee Doo, March 2010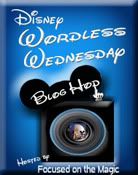 Make sure you join in the Wordless Wednesday fun over at Deb's Focused on the Magic. She invites everyone to join in the
Disney Wordless Wednesday Blog Hop

.