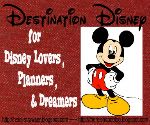 As you can probably tell from my blog, I love to talk about my kids. Over at Heidi's Reviews & Reflections, she has posted for Destination Disney the topic "Kids' Favorite Memories." If you haven't heard of Destination Disney, it is a segment she posts every Friday that gives everyone an opportunity to link in with one of their own posts on the topic.
It is always funny interviewing my kids because honestly, I never know what they are going to say and generally I am pretty surprised by the things they remember as their favorite.
Joey (age 6.5): There are several attractions I thought Joey would say were his favorite, especially the Magic Kingdom's Tomorrowland Speedway, since he makes us ride it at least 10 times over a week's vacation. To my surprise, he responded with "Buzz Lightyear's Space Ranger Spin." He is a huge Buzz fan, but honestly I never expected for him to choose this attraction. When I asked him why it is his favorite he said, "because I get to shoot things and beat Daddy's score." He is a pretty competitive kid, so I probably should have guessed he would like something he could "win" at. (By the way, I have no photo of Joey riding Buzz Lightyear Space Ranger Spin, but here is a photo from the first time he met Buzz in 2006!)
Emily (age 3.5): I really did not even need to ask Emily about favorite, though I did just in case. Her immediate response was the merry go round. Though her choice was not surprising, the wording of it was. In all our Disney talks, Emily has always claimed the "horse-go-round" is her favorite, so I was surpised that she actually called it a merry-go-round. Of course, Hayley quickly corrected her and let her know it is Cinderella's carousel. Hayley is our stickler for details, so I didn't have the heart to tell her it is now Prince Charming's Regal Carousel. I will admit that this is another attraction we experience at least ten times a trip.
Hayley (age almost 5): This is the most surprising response of the day. Not because of her choice of favorite attraction but for the reason. Hayley's favorite attraction is Playhouse Disney Live, though now it is Disney Junior Live. She loves to dance and sing with the characters. But when I asked her why this was her favorite, I kid you not, here was her response: "I love to dance with Mickey and someday I am going to marry him." So who knew, Mickey is Hayley's Prince Charming!
I look forward to our October trip to see if they discover any new favorite memories. If you want to link up and share your child's favorite Disney memory or you just want to read more special kids' memories, head over to
Reviews & Reflections
.